Fleet Brake Services
At Hamilton Service Center, we want our Hamilton customers to have the opportunity to feel comfortable in their vehicle. You can leave the repairs and services to our professionals, but please don't hesitate to ask us questions about why a service is needed or how it occurred. Give us a call at 540-338-9110, and we will be happy to speak with you.
Brake Maintenance & Repair
Truck brakes are much more powerful than car brakes. Faulty truck brakes put the truck driver, the load, and other road users at risk. If you are not confident in your truck's ability to stop firm and straight when you hit the brakes, then it is time to have them checked and replaced if necessary. At Hamilton Service Center, we will diagnose your truck and fleet's brake problems and offer high quality brake work. Visit our auto shop or call us today 540-338-9110.
Hydraulic Brakes
A hydraulic brake is a type of braking system that uses brake fluid to transfer pressure to the brake pads. Although most heavy trucks use air brakes, some trucks have hydraulic brakes. A hydraulic brake consists of the following: a brake pedal, a push rod, a cylinder chamber, and brake pads. With time, the hydraulic brakes components wear out and thus need replacement. For all your hydraulic brake system needs, visit Hamilton Service Center or call us at 540-338-9110. We boast the most experienced hydraulic brake experts in the region.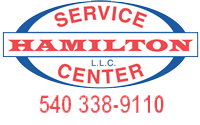 Let me start off by saying I have car mechanic trust issues, Mike at Hamilton Service Center has earned my trust. He is upfront, honest, and fair. He has done a lot of work for me on my three vehicles since they opened, they even replaced an engine for me. They've also checked and corrected many of my own repairs at my request. One of my vechicles is still under a dealer warranty. I've often called Mike to validate dealer troubleshooting and costs, he has always steered me right.
Jimmy C.